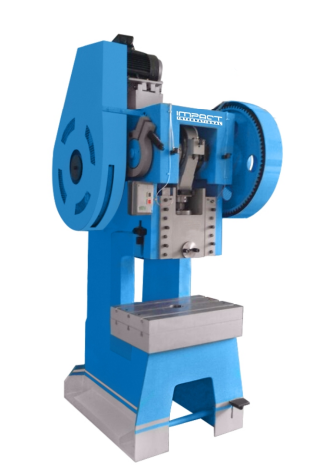 Types and Capacities:
Presses are available in capacities of 10 to 300 tonnes in single geared, double geared, un-geared, "C" and pillar type models. Presses are also available in inclinable type and permanently inclinable type models. These machines are subjected to stringent performance tests using advanced testing devices to ensure high performance, Increased productivity & reliability.
Frame: The robust frame is fabricated from solid steel plates with heavy cross ribbing to main housing &" C" supports for perfectly balanced distribution of stress over the cross section elimination, deflection and vibration. and thus improving die & machine life..
Crank Shaft: Eccentric crank shaft is machined from en-9 steel round bar. It is ground finished on bearing surface. The main crank shaft & eccentric bearings are covered with high quality phosphor-bronze or gun metal bushes and lubrication oil grooves for smooth functioning.